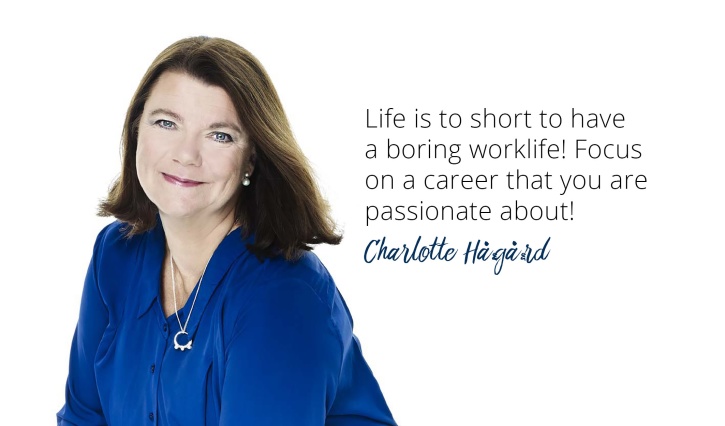 ★ Charlotte is an experienced and passionate career, personal branding & LinkedIn expert, Executive & Business coach, leadership trainer & public speaker (150 000+ people) since 25 years. Charlotte has guided 10 000´s of people to build their personal brand and find an inspiring and fulfilling worklife.

★PIONEER: 1992 she became an entrepreneur and pioneered the career industry in Sweden with her company New Start, focused on career coaching, outplacement, change management and leadership training. In May of 2018 she sold Newstart to focus on her other brands and companies.

★TODAY: Charlotte runs three brands and companies.
★ Charlotte Hagard, her own brand for speaking och coaching,
★ Active Choice Publishing, where she writes, produces, markets and sells her own books, e- & audiobooks and online courses.
★ Social Branding Group, a global digital company, offering online services for personal and employer branding with focus on LinkedIn.

★ AUTHOR: Charlotte is also a bestselling author of 8 books in the Career & Personal branding field. Her latest book "STAND OUT ON LINKEDIN! – Create business and career success"​ has been a huge success in Sweden.

★ MEDIA PERSONALITY: She is frequently interviewed in the media and radio all over Sweden and BBC. She has had her own career column in Sweden's biggest newspaper, Dagens Nyheter, and been a popular career coach on TV4 morning show.

★ EXPERT: Charlotte is a nationally and internationally recognized thought leader and popular speaker on Personal and Employer Branding, LinkedIn, career planning and the new world of work.

★ CHARLOTTES MOTTO ★ Life is too short to have a boring worklife. A great career=a great life!

★EDUCATION & TRAINING
Charlotte has a business degree from Uppsala University, is an internationally certified Coach through ICF and has a certification for Extended Disc communication tool. Sh is also a Personal Branding strategist and Social Branding Analyst through Reach i USA.
Charlotte is A Reach Personal Branding strategist

Reach is focused on helping individuals and organizations build and nurture strong brands. The Reach methodology is being used by hundreds of leading global brands, educational institutions, and 20% of the Fortune 100. Reach Personal Branding was founded in 2001 by William Arruda, the leading pioneer and expert in the field of personal branding .

Through the knowledge Charlotte has gained through her association with Reach and being certified in the Reach programs, she has built a reputation as a thought leader and a go-to resource who delivers real results in boosting her clients' careers and increasing their happiness.
PERSONAL BRANDING STRATEGIST

Charlotte is a Certified Personal Branding Strategist which means as her client you will get the
absolute best personal brand coaching available.
Personal branding is the career insurance people seek today. It's the future of effective career success and management.

No matter if you are an executive, en employee, an entrepreneur, small business owner, professional or job seeker, Charlotte will help you and your company to step into the future with the power of true authenticity.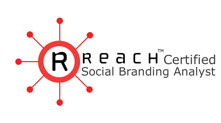 Charlotte is a Certified Social Branding Analyst which means she has a great toolbox to help her clients build stellar LinkedIn profiles and use LinkedIn to expand their thought-leadership, build and nurture their network and do their job better.

The result: By maximizing the value of LinkedIn, her clients gain competitive advantage and increase their influence and confidence. They expand their brand community. They increase their performance and reach their goals.

Through Social branding you will learn to really Stand Out.
360 REACH PERSONAL BRAND ASSESSMENT

Charlotte is certified in 360Reach, the premiere personal branding assessment in the world.
The 360Reach Personal Brand Survey tool is designed by William Arruda and developed to help people understand how they're perceived by those around them.

This unique tool has been used by over a million people around the globe and is continually ranked among the most valuable tools on the market of personal branding. It's available in English, French and Spanish.

The 360Reach will help you to Stand Out.